The Art of Return: The Sixties and Contemporary Culture (Hardcover)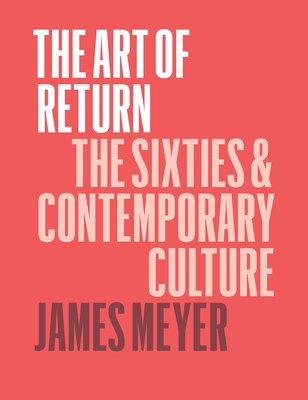 Description
---
More than any other decade, the sixties capture our collective cultural imagination. And while many Americans can immediately imagine the sound of Martin Luther King Jr. declaring "I have a dream!" or envision hippies placing flowers in gun barrels, the revolutionary sixties resonates around the world: China's communist government inaugurated a new cultural era, African nations won independence from colonial rule, and students across Europe took to the streets, calling for an end to capitalism, imperialism, and the Vietnam War.

In this innovative work, James Meyer turns to art criticism, theory, memoir, and fiction to examine the fascination with the long sixties and contemporary expressions of these cultural memories across the globe. Meyer draws on a diverse range of cultural objects that reimagine this revolutionary era stretching from the 1950s to the 1970s, including reenactments of civil rights, antiwar, and feminist marches, paintings, sculptures, photographs, novels, and films. Many of these works were created by artists and writers born during the long Sixties who were driven to understand a monumental era that they missed. These cases show us that the past becomes significant only in relation to our present, and our remembered history never perfectly replicates time past. This, Meyer argues, is precisely what makes our contemporary attachment to the past so important: it provides us a critical opportunity to examine our own relationship to history, memory, and nostalgia.
 
About the Author
---
James Meyer is a curator of Modern Art at the National Gallery of Art in Washington, DC. He was previously the Winship Distinguished Research Associate Professor of Art History at Emory University and deputy director and chief curator of the Dia Art Foundation.
Praise For…
---
"No one lives by decades—no one looked up on December 31, 1969, and said, 'Oh, no! It's almost over!'—and yet the Sixties, like the Dude, abides. It functions variously as fetish, lucky charm, standard, or whip—chaos and confusion, destruction and the devil's own playground to some, a time of hot desire and extravagant dreams that ignited the fuses of possibility for others. The best of times and the worst of times. Meyer dives into that maelstrom with passion, courage, and clarifying intelligence. He emerges with a striking and sensitive portrait of that time, and of our own time, that moves beyond myth and symbol and into the heart of life as it's actually lived—contradictory, unfinished, trembling, and real."
— Bill Ayers, author of Fugitive Days: A Memoir and Public Enemy: Confessions of an American Dissident
"Meyer is a critic and art historian of extraordinary rigor and insight, and there are few who are better equipped to write on the 'long' Sixties. The Art of Return is a striking and generous reflection on that moment's effect as reimagined by artists, writers, filmmakers, and art historians. Meyer is to be especially commended for his capacious analyses of histories too often marginalized in art-historical treatments of the long Sixties and the connections he draws in taking a more global view of art history."
— Pamela Lee, author of New Games: Postmodernism after Contemporary Art
"In this marvelously original, insightful, and timely book, Meyer draws from the work of artists and theoreticians who have helped to shape late-modern and contemporary art and effectively folds the legacies of the 1960s onto current artistic practices and concerns. Written with a literary flair and urgency that is at times breathtaking, the author's impassioned arguments, dialogues, and reinterpretations are at once inherently allusive and personal, and yet utterly convincing in the way they address questions that go to the heart of artistic production today."
— Alexander Alberro, author of Abstraction in Reverse