Planet Google: One Company's Audacious Plan to Organize Everything We Know (Paperback)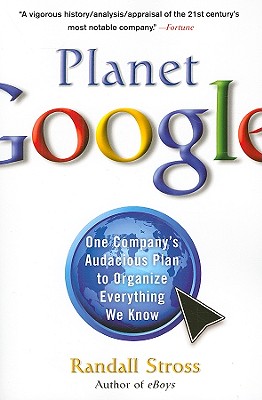 $15.00
Special Order—Subject to Availability
Description
---

"In this spellbinding behind-the-scenes look, Stross leads readers through Google's evolution...the unfolding narrative reads like a suspense novel" (Publishers Weekly, starred review).

Based on unprecedented access to the "Googleplex," Planet Google goes deep inside the company to unveil the extraordinary scope and scale of its ambition to become the master gate-keeper of "all the world's information," including its users' most personal information. New York Times columnist Randall Stross provides a lively tour through Google's flurry of new information gathering initiatives. Will Google stay true to its famous "Don't Be Evil" mantra? Will it protect all of the personal information it collects? Planet Google is a much-needed wake-up call about how powerful the Google juggernaut has become.
About the Author
---
Randall Stross is the author of the New York Times column "Digital Domain" and of several books, including The Microsoft Way and eBoys. He lives in Menlo Park, California.
Praise For…
---
"A computer enthusiast who wants to Google Google couldn't find a more dedicated guide than Stross....Stross's access to the company pays off nicely for both Google's fans and people who read books on paper."
-- Time




"[An] even-handed and highly readable history of the company."
-- Wall Street Journal




"Stross tells the epic info-opera of Google simply and swiftly. He provides elegant microhistories of familiar subjects...and sprinkles just about every page with unexpected tech facts."
-- New York magazine




"In this spellbinding behind-the-scenes look at Google, Stross provides an intimate portrait of the company's ambitious aim to 'organize the world's information.'...The narrative reads like a suspense novel."
-- Publishers Weekly




"A vigorous history/analysis/appraisal of the 21st century's most notable company."
-- Fortune