We're following all official guidelines to keep ourselves healthy on the job, and as a result, shipping may be delayed.
You will receive an email from our web orders team confirming that your order has been processed.
We thank you for your support and your patience at this challenging time.
The Absolute Value of Mike (Hardcover)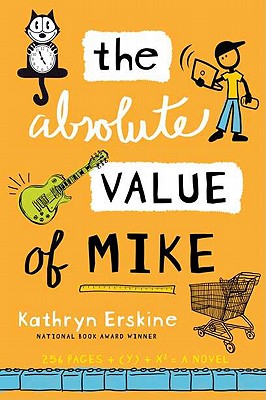 Special Order—Subject to Availability
Summer 2011 Kids' Next List
---
"This is a lovely tale of resilience and discovery. Mike is sent to stay with his great-aunt and uncle while his professor father goes to teach in Romania for the summer. Mike shortly finds himself the leader of a whirlwind campaign to help the local minister adopt a boy who seems hauntingly similar to himself, although he was orphaned on the other side of the world. In the process, Mike learns that appearances are rarely dependable, but that he can depend upon himself, and that a person's absolute value is measured in the people who care for you."
— Elizabeth Anker, Alamosa Books, Albuquerque, NM
Description
---
Mike tries so hard to please his father, but the only language his dad seems to speak is calculus. And for a boy with a math learning disability, nothing could be more difficult. When his dad sends him to live with distant relatives in rural Pennsylvania for the summer to work on an engineering project, Mike figures this is his big chance to buckle down and prove himself. But when he gets there, nothing is what he thought it would be. The project has nothing at all to do with engineering, and he finds himself working alongside his wacky eighty-something- year-old aunt, a homeless man, and a punk rock girl as part of a town-wide project to adopt a boy from Romania. Mike may not learn anything about engineering, but what he does learn is far more valuable.
About the Author
---
Kathryn Erskine spent many years as a lawyer before realizing that she'd rather write things that people might actually enjoy reading. She grew up mostly overseas and attended eight different schools, her favorite being the Hogwarts-type castle in Scotland. The faculty, of course, did not consist of wizards, although . . . how did the headmistress know that it was "the wee redhead" who led the campaign to free the mice from the biology lab? Erskine draws on her childhood--and her second childhood through her children--for her stories. She still loves to travel but nowadays most trips tend to be local, such as basketball and tennis courts, occasional emergency room visits, and the natural food store for very healthy organic chocolate with "life saving" flavonoids.