We're following all official guidelines to keep ourselves healthy on the job, and as a result, shipping may be delayed.
You will receive an email from our web orders team confirming that your order has been processed.
We thank you for your support and your patience at this challenging time.
Provocations: Collected Essays on Art, Feminism, Politics, Sex, and Education (Paperback)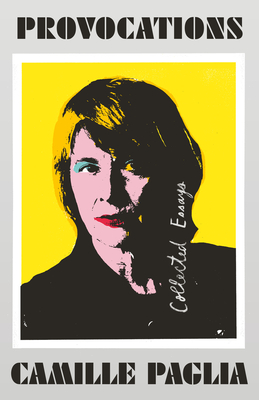 Description
---
Much has changed since Camille Paglia first burst onto the scene with her groundbreaking Sexual Personae, but the laser-sharp insights of this major American thinker continue to be ahead of the curve—not only capturing the tone of the moment but also often anticipating it. Opening with a blazing manifesto of an introduction in which Paglia outlines the bedrock beliefs that inform her writing—freedom of speech, the necessity of fearless inquiry, and a deep respect for all art, both erudite and popular—Provocations gathers together a rich, varied body of work spanning twenty-five years, illuminating everything from the Odyssey to the Oscars, from punk rock to presidents past and present. Whatever your political inclination or literary and artistic touchstones, Paglia's takes are compulsively readable, thought provoking, galvanizing, and an essential part of our cultural dialogue, invariably giving voice to what most needs to be said.


About the Author
---
Camille Paglia is the University Professor of Humanities and Media Studies at the University of the Arts in Philadelphia. She is the author of Free Women, Free Men; Glittering Images; Break, Blow, Burn; The Birds; Vamps & Tramps; Sex, Art, and American Culture; and Sexual Personae.
Praise For…
---
"Paglia is a brilliant thinker on culture and human nature." —The New Criterion

"An essential public intellectual." —VICE

"With her signature acerbic wit, Paglia offers astute and humorous cultural commentary across pop culture, art, feminism, and politics." —Vogue

"Brilliant. . . . The scholar and culture warrior comes out swinging. . . . Paglia covers a vast swath of society and culture at large, including sections on popular culture, literature, education, art, politics, and more. She is still at her fiery intellectual best as a teacher, whether she's throwing out odd but intriguing comparisons—Captain Ahab and Ziggy Stardust are both 'scarred by lightning,' each 'a voyager who has defied ordinary human limits and paid the price'—or deciphering poetry, happily butchering sacred cows along the way. . . . This career retrospective is both maddening and essential." —Kirkus Reviews (starred)

"Outrageous, just as we expected and hoped! Not a neutral observer, Paglia has an eye. She can see movement, see fissures developing, hear the winds shift. Here, in her collection of essays, we are doing time travel, but with destinations set.  The author is showing us what she sees ahead." —Patricia E. Moody, Blue Heron Journal