We're following all official guidelines to keep ourselves healthy on the job, and as a result, shipping may be delayed.
You will receive an email from our web orders team confirming that your order has been processed.
We thank you for your support and your patience at this challenging time.
The Dark Interval: Letters on Loss, Grief, and Transformation (Modern Library Classics) (Hardcover)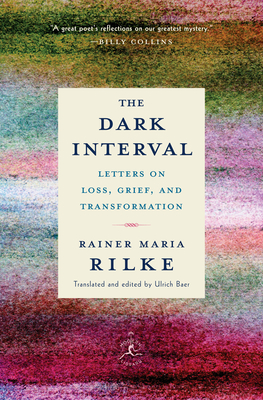 Description
---
From the writer of the classic Letters to a Young Poet, reflections on grief and loss, collected and published here in one volume for the first time.

"A great poet's reflections on our greatest mystery."—Billy Collins

"A treasure . . . The solace Rilke offers is uncommon, uplifting and necessary."––The Guardian

Gleaned from Rainer Maria Rilke's voluminous, never-before-translated letters to bereaved friends and acquaintances, The Dark Interval is a profound vision of the mourning process and a meditation on death's place in our lives. Following the format of Letters to a Young Poet, this book arranges Rilke's letters into an uninterrupted sequence, showcasing the full range of the great author's thoughts on death and dying, as well as his sensitive and moving expressions of consolation and condolence.

Presented with care and authority by master translator Ulrich Baer, The Dark Interval is a literary treasure, an indispensable resource for anyone searching for solace, comfort, and meaning in a time of grief.

Praise for The Dark Interval

"Even though each of these letters of condolence is personalized with intimate detail, together they hammer home Rilke's remarkable truth about the death of another: that the pain of it can force us into a 'deeper . . . level of life' and render us more 'vibrant.' Here we have a great poet's reflections on our greatest mystery."—Billy Collins

"As we live our lives, it is possible to feel not sadness or melancholy but a rush of power as the life of others passes into us. This rhapsodic volume teaches us that death is not a negation but a deepening experience in the onslaught of existence. What a wise and victorious book!"—Henri Cole
About the Author
---
Rainer Maria Rilke (1875–1926), born in Prague into a German-speaking family, is widely recognized as one of the world's great poets. He is the author of the novel The Notebook of Malte Laurids Brigge and several books of poetry, including The Book of Hours, The Book of Images, New Poems, The Life of the Virgin Mary, The Duino Elegies, and Sonnets to Orpheus. He wrote approximately about fifteen thousand letters to an enormous range of recipients. Letters to a Young Poet and Letters on Life have inspired countless readers.

Ulrich Baer was educated at Harvard and Yale and has been awarded John Simon Guggenheim, DAAD, Paul Getty, and Alexander von Humboldt fellowships. He is Vice Provost and Professor of German and Comparative Literature at New York University. His previous books include Remnants of Song: Trauma and the Experience of Modernity in Charles Baudelaire and Paul Celan, Spectral Evidence: The Photography of Trauma, The Rilke Alphabet, Beggar's Chicken: Stories from Shanghai, and We Are But a Moment. He edited 110 Stories: New York Writes After September 11, and edited and translated Letters on Life: New Prose Translations, published by the Modern Library.
Praise For…
---
"Even though each of these letters of condolence is personalized with intimate detail, together they hammer home Rilke's remarkable truth about the death of another: that the pain of it can force us into a 'deeper . . . level of life' and render us more 'vibrant.' Here we have a great poet's reflections on our greatest mystery."—Billy Collins

"A treasure . . . The solace Rilke offers is uncommon, uplifting and necessary."––The Guardian

"As we live our lives, it is possible to feel not sadness or melancholy but a rush of power as the life of others passes into us. This rhapsodic volume teaches us that death is not a negation but a deepening experience in the onslaught of existence. What a wise and victorious book!"—Henri Cole