We're following all official guidelines to keep ourselves healthy on the job, and as a result, shipping may be delayed.
You will receive an email from our web orders team confirming that your order has been processed.
We thank you for your support and your patience at this challenging time.
Black Light: Stories (Paperback)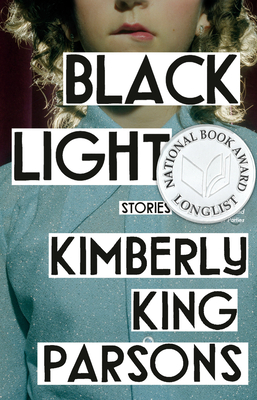 Description
---
LONGLISTED FOR THE NATIONAL BOOK AWARD

"The stories in Black Light are grimy and weird, surprising, utterly lush. . . . I loved every moment of this book." —Carmen Maria Machado, author of Her Body and Other Parties

With raw, poetic ferocity, Kimberly King Parsons exposes desire's darkest hollows—those hidden places where most of us are afraid to look. In this debut collection of enormously perceptive and brutally unsentimental short stories, Parsons illuminates the ache of first love, the banality of self-loathing, the scourge of addiction, the myth of marriage, and the magic and inevitable disillusionment of childhood.
 
Taking us from hot Texas highways to cold family kitchens, from the freedom of pay-by-the-hour motels to the claustrophobia of private school dorms, these stories erupt off the page with a primal howl—sharp-voiced, acerbic, and wise.
About the Author
---
Born in Lubbock, Texas, Kimberly King Parsons received her MFA from Columbia University. Her fiction has been published in The Paris Review, Best Small Fictions 2017, Black Warrior Review, No Tokens, Ninth Letter, and The Kenyon Review, among others.
Praise For…
---
"Fantastic . . . enchanting yowls from a big and wild Texas. . . . Parsons' is an exhilarating, enchanting, charming and irresistible new voice. Imagine the punk rock stylings of the criminally underappreciated Jeff Parker. Add the full-throated roar of weird Karen Russell, plus the deft sparkle of Denis Johnson and all of the gesturing and spooky direction of Carmen Maria Machado. This is real-deal fiction. You'll want more. . . . Occasionally a debut collection lands with such a wet, happy thud that you immediately start imagining the rest of the writer's long career. It's good luck that in this case Parsons is slated for at least one novel."
—Nathan Deuel, Los Angeles Times
 
"[A] wild and compassionate debut collection. . . . [Parsons] writes with the unpredictable power of a firecracker, bringing flashes of illumination to people who struggle with disappointment, both in themselves and others. Every story in this collection is beyond remarkable, and Parsons proves herself to be a gutsy country-punk poet with a keen eye and a stubbornly unique sensibility."
—Michael Schaub, NPR

"Kimberly King Parsons' weird, intimate, enchanting debut does a service to the short story form. . . . The writing sings at an undeniably pleasing pitch, with many of the sentences hitting such high notes that it feels breathtaking."
—Lit Hub, "The Best Queer Debuts of 2019"
 
"Just keeps getting better as you turn the pages. . . . Wisdom and humor are so thick on the ground you could find a sentence worth quoting on every page. . . . Comparisons have been made to Denis Johnson, Karen Russell, Carmen Maria Machado . . . and we'll add Angela Carter. The Angela Carter of Lubbock, Texas."
—Kirkus Reviews (starred review)

"An incredibly satisfying reading experience. . . . Perhaps the greatest strength of this collection lies in its weird, eerie, and sublimely beautiful details of setting and character. . . . Vividly rendered in a Texas setting that bursts off the page like Fourth of July fireworks. Black Light demands the attention of all the reader's senses."
—Sarah Neilson, Electric Literature
 
"Beautiful, strange turns of phrase; surprising syntax; real and regional jewels [are] scattered across every page. . . . In turns both wise and funny, Black Light takes your breath regularly with its elegant observations."
—Nicole Treska, The Millions
 
"These are stories bursting with feeling. Stories of heartbreak and humor, lust and friendship. It's the kind of book that will break your heart while reminding you of the lush possibilities of language."
—Lincoln Michel, BOMB
 
"Recalls the work of Katherine Dunn, Alice Munro, and Denis Johnson. But Parsons also charts her own territory with stories that offer the promise of transcendence and desire while simultaneously threatening the pain of regret and loss."
—Tobias Carroll, Texas Observer

"There is a reckless kind of heat to the tender, broken characters in these stories. . . . Parsons is both unflinching and eloquent in her portrayals of people as they burn and rage."
—Lauren Kane, The Paris Review
 
"Parsons's debut crackles with the frenetic energy of the women who stalk its pages. . . . Parsons's characters are sharp and uncannily observed, bound up in elastic and electrifying prose. This is a first-rate debut."
—Publishers Weekly (starred review)

"Black Light is an unshakable debut, a collection of stories that will grip you under its spell until its closing notes. Compulsively readable, this book is as much a love letter to language as it is to the natural world, the darkened corners of desire, and the absurdities of girlhood. Gutsy, loud, and so very Texas, this one moved me in a tectonic way. You'll underline every sentence."
—T Kira Madden, Bustle

"In lithe, lyrical prose à la Amy Hempel and Noy Holland, Parsons's short fiction parses the addictions and desires of Texan girls and women, and will break your heart even as it makes you laugh." 
—O, The Oprah Magazine

"[An] assured debut. . . . Imbued with the expanses of their landscapes, Parson's dozen tales portray characters navigating unavoidable shifts in the realities of their lives."
—Leah Strauss, Booklist

"The bad-ass gals in these terrific stories are all attitude, and as funny and appealing in their imperfection and thwarted desire as you'll find in any fiction out there. Parsons opens and ends stories brilliantly. I just finished this book, and I'm going to read it again right away."
—Amy Hempel, author of Sing to It