We're following all official guidelines to keep ourselves healthy on the job, and as a result, shipping may be delayed.
You will receive an email from our web orders team confirming that your order has been processed.
We thank you for your support and your patience at this challenging time.
Ten Great Ideas about Chance (Paperback)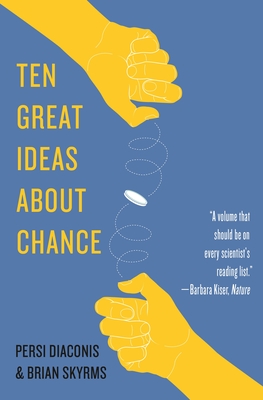 Description
---
A fascinating account of the breakthrough ideas that transformed probability and statistics
In the sixteenth and seventeenth centuries, gamblers and mathematicians transformed the idea of chance from a mystery into the discipline of probability, setting the stage for a series of breakthroughs that enabled or transformed innumerable fields, from gambling, mathematics, statistics, economics, and finance to physics and computer science. This book tells the story of ten great ideas about chance and the thinkers who developed them. Complete with a brief probability refresher, Ten Great Ideas about Chance is certain to be a hit with anyone who wants to understand the secrets of probability and how they were discovered.
About the Author
---
Persi Diaconis is the Mary V. Sunseri Professor of Statistics and Mathematics at Stanford University and the coauthor of Magical Mathematics: The Mathematical Ideas That Animate Great Magic Tricks (Princeton). Brian Skyrms is Distinguished Professor in the Department of Logic and Philosophy at the University of California, Irvine, and Professor of Philosophy at Stanford University. His books include Signals: Evolution, Learning, and Information.