We're following all official guidelines to keep ourselves healthy on the job, and as a result, shipping may be delayed.
You will receive an email from our web orders team confirming that your order has been processed.
We thank you for your support and your patience at this challenging time.
Little Bear Dreams (Hardcover)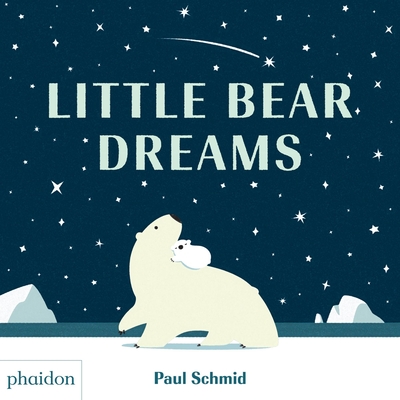 Description
---
A cozy and whimsical ode to polar opposites
Of what do little bears dream? Bright snowflakes perhaps... Or dark starry nights. Hot chocolate... Cold pizza. Straight horizons... And curly moustaches.
This gentle and imaginative tale takes readers on a journey of wintry opposites, including the expected and the unexpected. The sky's the limit when a little polar bear dreams, safely curled up with her mama. Perfect for bedtime or anytime, this snuggly read-aloud will both amuse and calm its young audience.
Ages 1-4
About the Author
---
Paul Schmid has published nine critically acclaimed picture books. His work has been recognized by The Society of Illustrators and the Society of Children's Book Writers and Illustrators. In 2010, Paul was invited to live and work with legendary children's book author Maurice Sendak as a Sendak Fellow. Paul has never lived in the Arctic, but dreams of hot chocolate just the same. He lives and plays in Seattle. You can visit him online at paulschmidbooks.com.
Praise For…
---
"This is the most calming bedtime story to help a little one drift off peacefully or settle back to sleep after a troubling dream. Polar bears dream about bright snowflakes, hot chocolate and... cold pizza?"—Mother & Baby
"Learn about pairing and opposites with the wintry new book by author and illustrator Paul Schmid. Its calming, lyrical text and beautiful imagery makes it a cosy bedtime tale that's just perfect for the chilly season."—Baby magazine
"With only a handful of words, Paul Schmid's creative "opposites" picture book is silly, fun and surprisingly tender... His illustrations feel expansive, depicting vast landscapes and adorable close-up, little bear "short tails". Little Bear Dreams is a perfect read for "frosty" nights and tucking into "[s]oft, snowy beds."—Shelf Awareness
"Schmid's beautiful use of line, shape, and color expresses the loving relationship between baby and adult as the little one peeks from behind Mom, hides underneath her during a game of hide-and-seek, and nuzzles noses in a little bear kiss... A story so rich in cuddles, caring, and comfort... An excellent book for baby shower, birthday, and holiday gifts as well as an endearing addition to home libraries, Little Bear Dreams is a book you will find yourself reaching for again and again. It's a sweet book for preschool classrooms and a must for public libraries."—Celebrate Picture Books
"A book for the very littlest readers, but also for the people who read with them... You won't wish you were doing something else. It's a book to read and discover together, then to relive as a shared experience. I think it's a book where you'll both go, "Let's read that one again". I would have. It's confidently simple... I can't read the words without hearing them spoken in a warm, hushed voice. [...] They could comfortably stand alone as poetry, and are broken into easily-grasped images that are ever so nicely backed up by the art. The art is wonderfully well composed. The second to last double-page spread is a print waiting to adorn a dozen thousand nursery walls. There's another that could become the most brilliant bookends. It's clear, clean, simple, endearing. It doesn't put a paw wrong. These are the gentlest, most inquisitive polar bears imaginable. All in all, reading this book is a fuzzy, snuggly experience. I think some of its pairs of readers will end up being Little Bear and Big Bear in each other's eyes and be inspired to look at the world in wonder. All of us will appreciate the calming, arctic oasis of loveliness it represents. Quite highly recommended."—ArmadilloMagazine.co.uk