We're following all official guidelines to keep ourselves healthy on the job, and as a result, shipping may be delayed.
You will receive an email from our web orders team confirming that your order has been processed.
We thank you for your support and your patience at this challenging time.
Another Great Day at Sea: Life Aboard the USS George H.W. Bush (Paperback)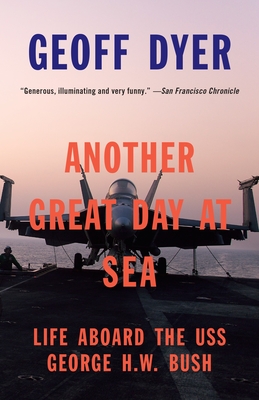 Description
---
As a child Geoff Dyer spent long hours making and blotchily painting model fighter planes. So as an adult, naturally he jumped at the chance to spend a week onboard the aircraft carrier the USS George H.W. Bush. Part deft travelogue, part unerring social observation, and part finely honed comedy, Another Great Day at Sea is the inimitable Dyer's account of his time spent wandering the ship's maze of walkways, hatches, and stairs, and talking with the crew—from the Captain to the ship's dentists. A lanky Englishman in a deeply American world, Dyer brilliantly records daily life aboard this floating fortress, revealing it to be a prism for understanding a society where discipline and conformity become forms of self-expression. At the same time we are reminded why Dyer is celebrated as one of the most original voices in contemporary literature.

About the Author
---
Geoff Dyer's books include But Beautiful (winner of the Somerset Maugham Award); The Missing of the Somme; Out of Sheer Rage; The Ongoing Moment (winner of the ICP Infinity Award for writing on photography); Jeff in Venice, Death in Varanasi; and Zona. His many awards include the E. M. Forster Award from the American Academy of Arts and Letters, a Lannan Literary Fellowship, and, most recently, a National Book Critics Circle Award for the essay collection Otherwise Known as the Human Condition. He is a Fellow of the Royal Society of Literature, and his books have been translated into twenty-four languages. Dyer currently lives in Venice, California.

Praise For…
---
"Generous, illuminating and very funny." —San Francisco Chronicle

"Dyer stows himself away on an American aircraft carrier, fortunately, with all his hilarious tics in place. A rare kind of nonfiction, with sentences that keep on giving long after your eye has sailed on." —Steve Martin

"Hilarious. . . . [Dyer is] one of the funniest writers alive." —Chicago Tribune

"[Dyer] is one of our greatest living critics, not of the arts but of life itself, and one of our most original writers." —New York Magazine

"Urgent, funny, utterly in-the-moment and achingly honest. . . . Like the captain, like the crew, like the ship, Dyer's superb book constantly reiterates its excellence. It virtually stands to attention on its own." —Philip Hoare, The Guardian (London)

"This is what I love about Geoff Dyer's work: His feet are never on the ground. . . . He's a philosophical naturalist, a realist." —Clancy Martin, The New York Times Book Review

"Remarkable. . . . Earnest but never unctuous, light-handed but stirring." —Minneapolis Star Tribune

"[Another Great Day At Sea] shares sea legs with David Foster Wallace's brilliant cruise-ship essay 'A Supposedly Fun Thing I'll Never Do Again.' . . . For all the snap and snark in his prose, Dyer can't tamp down his generosity of spirit forever." —NPR.org

"Dyer is to essays what Anthony Bourdain is to food. . . . That rare writer one reads not to learn something new but to enjoy his sidelong take on a subject." —Los Angles Times

"A total delight. . . . Stuffed with wonderful anecdotes." —The Independent (London)

"[Dyer is] likely the greatest writer of nonfiction we have. . . . He's the quintessential everyman through which any reader could substitute his or her own imagination." —New York Observer

"Filled with curiosity and with admiration." —The New York Times

"Dyer deftly blends two stories into one short book: a closely observed, respectful account of life and work aboard an aircraft carrier, and the comic adventure of being 'the oldest and tallest person on ship,' ducking and stooping his head constantly, struggling with the food and the noise of jets." —Milwaukee Journal Sentinel

"A great day is any day you get to read Geoff Dyer, and this book is no exception. Witty, empathetic, and insatiably curious, he is the perfect guide to the floating world of an American aircraft carrier. A perfect night landing on the 'postage stamp,' with élan to spare." —Sam Lipsyte

"A revelation to lovers of literature, who'll learn about the military from a master stylist, and to those who love ships and planes, who'll have the pleasure of a new perspective from a great writer. . . . [Marked by] precise observation, unerring word choice, drop-dead sense of humor and the absurd." —The Oregonian

"The average writer would make this disparity into fish-out-of-water commentary, but Dyer starts there and then goes off into space, spinning his observations into something profound and beautiful that socks you in the gut." —Flavorwire

"Thoroughly enjoyable. . . . Installing a writer of Dyer's baroquely sensitive and self-conscious temperament aboard an American aircraft carrier stationed in the Persian Gulf is obviously a stroke of genius." —Salon.com

"As concentratedly funny as anything [Dyer's] written." —Slate

"When Dyer delves into a specific topic, he delves deeply. . . . As always, he laces his observations with comedy and captivating storytelling." —Huffington Post

"Dyer has a rare talent. . . . By the end of Another Great Day at Sea, the carrier is no longer forbiddingly otherworldly. . . . [Dyer has] moved from being a dispassionate observer to someone who prays for those who go to sea in ships." —Financial Times