We're following all official guidelines to keep ourselves healthy on the job, and as a result, shipping may be delayed.
You will receive an email from our web orders team confirming that your order has been processed.
We thank you for your support and your patience at this challenging time.
Margaret Fuller: A New American Life (MP3 CD)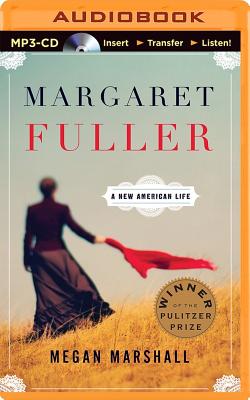 Description
---
Winner of the Pulitzer Prize for Biography
"Thoroughly absorbing, lively...Fuller, so misunderstood in life, richly deserves the nuanced, compassionate portrait Marshall paints." --Boston Globe
Pulitzer Prize finalist Megan Marshall recounts the trailblazing life of Margaret Fuller: Thoreau's first editor, Emerson's close friend, daring war correspondent, tragic heroine. After her untimely death in a shipwreck off Fire Island, the sense and passion of her life's work were eclipsed by scandal. Marshall's inspired narrative brings her back to indelible life. Whether detailing her front-page New-York Tribune editorials against poor conditions in the city's prisons and mental hospitals, or illuminating her late-in-life hunger for passionate experience--including a secret affair with a young officer in the Roman Guard--Marshall's biography gives the most thorough and compassionate view of an extraordinary woman. No biography of Fuller has made her ideas so alive or her life so moving.
"Megan Marshall's brilliant Margaret Fuller brings us as close as we are ever likely to get to this astonishing creature. She rushes out at us from her nineteenth century, always several steps ahead, inspiring, heartbreaking, magnificent." --Rebecca Newberger Goldstein, author of Betraying Spinoza: The Renegade Jew Who Gave Us Modernity
"Shaping her narrative like a novel, Marshall brings the reader as close as possible to Fuller's inner life and conveys the inspirational power she has achieved for several generations of women." --New Republic