We're following all official guidelines to keep ourselves healthy on the job, and as a result, shipping may be delayed.
You will receive an email from our web orders team confirming that your order has been processed.
We thank you for your support and your patience at this challenging time.
My Body Is a Book of Rules (Paperback)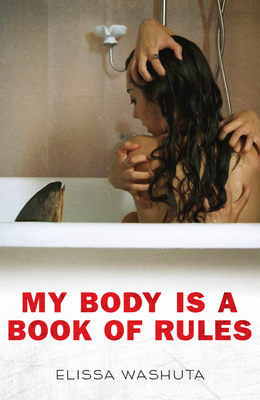 $16.95
Not On Our Shelves—Ships in 1-5 Days
Description
---
As Elissa Washuta makes the transition from college kid to independent adult, she finds herself overwhelmed by the calamities piling up in her brain. When her mood-stabilizing medications aren't threatening her life, they're shoving her from depression to mania and back in the space of an hour. Her crisis of American Indian identity bleeds into other areas of self-doubt; mental illness, sexual trauma, ethnic identity, and independence become intertwined. Sifting through the scraps of her past in seventeen formally inventive chapters, Washuta aligns the strictures of her Catholic school education with Cosmopolitan's mandates for womanhood, views memories through the distorting lens of Law & Order: Special Victims Unit, and contrasts her bipolar highs and lows with those of Britney Spears and Kurt Cobain. Built on the bones of fundamental identity questions as contorted by a distressed brain, My Body Is a Book of Rules pulls no punches in its self-deprecating and ferocious look at human fallibility.
About the Author
---
Elissa Washuta, a member of the Cowlitz Indian Tribe, was born in New Jersey and now lives in Seattle. She received an MFA in creative writing from the University of Washington in 2009 and has been the recipient of an Artist Trust GAP Award, a Potlatch Fund Native Arts Grant, a 4Culture Grant, and a Made at Hugo House Fellowship. Her work has appeared in Salon, The Chronicle of Higher Education and Third Coast. She is an adviser and lecturer in American Indian Studies at the University of Washington. My Body Is a Book of Rules is her first book.

Praise For…
---
"You should have [My Body Is a Book of Rules] on your radar now. . . . Washuta's story is . . . an ultra-modern take on contemporary femininity, mental illness, and identity."
—Cosmopolitan, "12 Memoirs by Women That Will Get You Through Anything"

"In a reliably honest, original and frank fashion, Washuta's ruminations lift the veil of her chronic (and highly medicated) bouts of mental illness to reveal the confused, frenetic and often traumatic reality of living with overwhelming bouts of depression and mania."
—Kirkus Review

"Although Washuta's story is not an easy read, the fact that Washuta has been able to build a life for herself is a credit to her fierce strength. It's one that parents, educators, mental health providers, and young women will find immensely valuable."
—Publishers Weekly

"Elissa Washuta is an extraordinarily original and gifted writer, and My Body Is a Book of Rules is an extraordinarily original and often brilliant book. Its formal innovations are in the service of a sustained and powerful investigation of body in relation to mind, and body in relation to culture."
—David Shields
 
"My Body Is a Book of Rules chronicles the Chutes and Ladders-style descent into the body and ascent out through the head that is our present coming-of-age myth. A sweet soul will spill out; they just do. We're lucky that every now and then, someone as thoughtful as Elissa Washuta takes the time to record what this feels like."
—Kristin Hersh of the band Throwing Muses and author of the memoir Rat Girl

"Bodies are us. And not. How do we figure out which is which? Elissa Washuta takes you on a fearless ride of sex, drugs, mood disorders, self-improvement, dieting, internet dating, ethnic identity, and why she isn't Catholic anymore. My Body Is a Book of Rules is a funny, scary, unpredictable book; it reads like the inside of your own head."
—Sallie Tisdale
 
 "A genre-bending ode to the bi-polar brain, Washuta's venomous, lyrical chapters link to form a memoir that's daring, vulnerable, caustic, and raw. Reading this book, you find yourself in a staring contest with a writer who won't look away—not from her devastating betrayals of body and brain, nor the chronic search for a chemical cure. She explores the nuances of blood quantum, Cosmo, catechism, psychotherapy, promiscuity, fencing, and Law & Order SVU in a voice that embraces its self-deprecating, self-destructive, humorous, bedazzled contradictions."
—Nicole Hardy