We're following all official guidelines to keep ourselves healthy on the job, and as a result, shipping may be delayed.
You will receive an email from our web orders team confirming that your order has been processed.
We thank you for your support and your patience at this challenging time.
Love is Love (Paperback)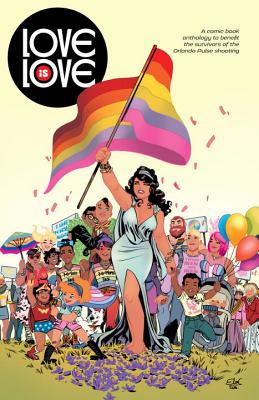 Description
---
The comic book industry comes together to honor those killed in the Pulse nightclub shooting, which took place on June 12, 2016, in Orlando, Florida. From IDW Publishing, with assistance from DC Entertainment, this oversize comic contains moving and heartfelt material from some of the greatest talents in comics—mourning the victims, supporting the survivors, celebrating the LGBTQ community, and examining love in today's world.

Featuring such diverse characters as Wonder Woman, Superman, Supergirl, Batman, Harry Potter, Will Eisner's The Spirit, Southern Bastards, Batwoman, Archie, Betty, Veronica, Kevin Keller, Hack/Slash, Harley Quinn, Poison Ivy, Alters, Apollo, Midnighter, Green Lantern, and more. 

Love is Love is truly one of comics' greatest collaborative efforts, all in the name of inspiring equality and understanding, and in support of a crucial cause. 

With contributions from Patton Oswalt, Brad Meltzer, Jim Lee, Grant Morrison, Mark Millar, Matt Bomer, Taran Killam, Patty Jenkins, Marc Andreyko, Paul Dini, Scott Snyder, Jonathan Hickman, Tom King, Kieron Gillen, Brian Michael Bendis, Damon Lindelof, Morgan Spurlock, Roberto Aguirre-Sacasa, Gail Simone, Tom Taylor, Jason Aaron, George Pérez, Cecil Castellucci, James Tynion IV, Mark Buckingham, Ivan Reis, Phil Jimenez, Lilah Sturges, Jason Latour, Mike Carey, Steve Orlando, G. Willow Wilson, Cat Staggs, Joseph Michael Linsner, Tim Seeley, Sina Grace, and many more.


Winner of the 2017 Eisner Award for Best Anthology
Winner of the 2017 Ringo Award for Best Anthology
Winner - 2017 Anthology of the Year at the Diamond Gem Awards
About the Author
---
Marc Andreyko is a comic and television writer best known for Manhunter, Batwoman, and Wonder Woman '77, all from DC Comics; The Illegitimates with Taran Killam, from IDW Publishing; and for organizing the Love is Love anthology, from IDW Publishing with DC, which raises money for the victims of the June 2016 Pulse nightclub shooting in Orlando through Equality Florida.
Praise For…
---
"A model of how art becomes therapeutic after tragedy, this uplifting collection resurrects hope and love in heartfelt messages for older teens and adults." —Library Journal

"These pages are filled with rage, and sadness, and frustrated helplessness, and sympathetic concern, and a defiant determination to take action. It's real and it's raw-throated and it always risks going too far, and spiraling into maudlin kitsch. But again: so what? If it didn't take that risk, it would be safe, and tasteful, and not remotely worth doing." —NPR

"It is worth mention, that ALL proceeds from this book will be going to the victims, survivors and their families via Equality Florida. I have read this book over. I don't think I have felt so much or wept so much at the bravery of the characters within." —Comic Crusaders

"Each piece feels like a snapshot, and the book as a whole is more like a massive accumulation of images, anecdotes and moments. And honestly? That's the genius of it." —CBR